ANNOUNCEMENTS
SAVE THE DATE - JUNE 19th!
| | |
| --- | --- |
| | The Diosa Recita is scheduled! Not only will we be celebrating Diosa's third birthday, we will be celebrating Paulina's 50th! We've got great new choreography for solo and group performances in Bellydance, Burlesque, Chair Dance and Pole Dance. It promises to be a FUN, sexy night and, as before, we will raise funds to benefit Voices Against Violence - a cause near and dear to us. |
NEW CLASS! NEW INSTRUCTOR!

BURLESQUE CLASS! Diosa now has a exciting new six-week Burlesque program that will give you that safe place in which to tastefully unleash your inner vixen! In this series of burlesque classes, Maureen McAnulty combines her 20 years of dance experience in Ballet, Jazz and Modern with the sensual art of tease. These classes empower the absolute beginner with confidence by building muscle memory for modern jazz movement and releasing the hips and your inhibitions! Burlesque incorporates Fosse style footwork with bumps-n-grinds, shakes, and shimmies... and a whole lot of imagination, creativity and fun! Because the class works on a specific choreography, it is recommended that you reserve your spot with the intent to commit to attending 5 of the 6 weeks of class. For planning purposes, pre-registration is required. Classes meet Wednesdays at 7pm.



MAUREEN MCANULTY! is an experienced dance instructor who began her own instruction at a young age with the Dancing Arts Center in the very dance studio where Diosa now resides today! And that was just the beginning. Her dedication to her craft took her to New York where she had the opportunity to attend classes at the Broadway Dance Center, The Ailey School and the Martha Graham School of Contemporary Dance. She has performed in numerous productions of musicals in and around Boston including Cats and Grease and has studied at well-known Boston schools of dance including The Dance Complex and The Jeannette Neil Dance Studio. She has also trained in classical ballet with Silvia Silverman and Edra Toth of the Boston Ballet and Jonathan Towle and Liz Lapuh of the Cambridge Chamber Ballet. Finally, as a certified yoga instructor, Maureen can bring together many disciplines to integrate the spirit and mind into practice.



Visit the online store now!
CHECK THE SCHEDULE! More pole classes, flexibility classes and other specialty classes are being worked into the schedule as I write. Travel schedules are affecting class schedule. If you are not signed up for class we cannot contact you to let you know of scheduling changes during this very moveable season! Please check the schedule and sign up for classes!
| | |
| --- | --- |
| | You asked for it, you got it, Pilates and Chair Dance return to the schedule this week. Ffor you early birds, there is a Pilates class on Saturday mornings at 8am with me, and Jenna teaches on Monday nights. Thursday nights at 7 you can forget repetitions and concentrate on learning routines while working out your abs and core. We're still adding classes so be sure to CHECK THE ONLINE SCHEDULE, for the most current schedule. |
DIOSA RECITAL - JUNE 19th - 7pm! Fundraiser for Voices Against Violence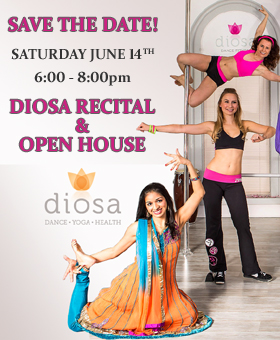 Diosa is three years old and Paulina turned 50, so this past year has given us plenty of reason to celebrate. We have new instructors and loads of new students this year, all of whom have something to share.
Please come and celebrate our achievements and support our community. There will be performances in Bellydance, Burlesque, Chair Dance, and Pole Dance by students and instructors. Food and beverage will be served and donations will be accepted in support of Voices Against Violence.
Please let us know you're coming so we can make sure there is enough space, food and beverage for everyone. Register online to let us know you're coming! And bring your family and friends!



Chair Dance - Thursday Nights!
Diosa is bringing this fun, playful class back just in time to get you looking and feeling your best for summer. Take the 1 hour class with your fellow Diosa members as part of your class package, book a private lesson for you and your girlfriends, or make a party of it for your bachelorette, birthday girl, or recent divorcee! You will never have so much fun doing situps or pushups, and, if you want to, bring those sexy new shoes you just love to wear - we'll put them to good use! Check out this video compilation of last year's chair dance classes and workshops for a taste of the fun you can have at Diosa!
Pole Dance Fitness comes to Diosa!
Think Pole Dancing is a still a stripper thing? THINK AGAIN! There is a new world of fitness and Diosa is here to help you discover it! This week, in honor of Columbus' discovery of the new world, Diosa is offering 50% off our new small group personal training classes in Pole Dance Fitness!
Pole dancing classes are popping up across America, and around the world with hopes of becoming the next Olympic sport. (check out the Wall Street Journal Article) In Europe, kids are getting an edge in gymnastics by augmenting their skills on the Pole (check out 10 year-old Olga Trifonova at the IPSF Competition). Pole dancing is a fun, physically demanding form of exercise that will make you stronger than you ever thought possible. No more endless reps! Burn more calories by developing lean muscle mass with Diosa's personalized training method.
Unlike other pole studios, Diosa's small group personal training provides the individualized attention that will help you get the most out of your training according to your personal needs. And you'll have so much fun, you won't notice the workout until you're done! Diosa's certified trainers have worked with top Cirque de Soleil performers and World Champions in pole. Want to check it out before you commit? Try out the Tripolar 3-class pack for $49 (a $96 value). You can buy it directly through the online store or, if you have a Voucher, contact Paulina at 508-309-3543 to activate your account. KNOW the value of personal training and pole dance fitness? Sign up for the Circe Membership and get unlimited personal training in strength and flexibility for the low price of $99 a month!
Image Not Found!