ANNOUNCEMENTS
Presenting: JINGLE BUTTS! & Give the Gift of Health to a loved one this year (this means YOU!)


| | |
| --- | --- |
| | Have you seen the holiday video compilation yet? It's sure to make you smile. Check it out by clicking the play arrow in the gallery. It highlights some of the fantastic offers for the holiday this year which can all be purchased online. Don't struggle through traffic to search endlessly for a parking spot to stand in long lines for your gift! Sit down with a cup of hot chocolate and visit our online store then pick up your gift when you come to yoga! |
| | |
| --- | --- |
| | You asked for it, you got it, Pilates and Chair Dance return to the schedule this week and a second Hoopalicious class has been added on Tuesday nights. Donna returns to give lunchtime pilates on Thursdays at 12:15 and, for you early birds, there is a Pilates class on Saturday mornings at 8am with me, and Jenna is finishing up her training to bring you another pilates class on Monday nights. Tuesday nights at 8, you can hoop away with Manya, and Thursday nights at 7 you can forget repetitions and concentrate on learning routines while working out your abs and core. We're still adding classes so be sure to CHECK THE ONLINE SCHEDULE, for the most current schedule. |
Make The Right Connection and Change Your Life!
Are you feeling overwhelmed by a major change in your life? Do you feel 'stuck' and aren't sure what to do or what direction to go? Have you tried all sorts of methods to alleviate your pain and they aren't working?
Do you wish you felt more calm, clear, and in control of your life? The mind-body connection is a powerful tool that can help improve not just physical health, but your total wellbeing. It can help you move through life transitions with more direction and purpose, improve your relationships, and give you more insight into your passion and purpose.

What if I told you you had all the information in you to address your greatest challenge and achieve your greatest wish?

What if I told you that Martha can teach you how to access that information?



Join us at her Inner Directions Workshop on Sunday September 28, 2014 at 12 noon and begin the first step towards fulfilling your destiny! Click on "Workshops" above and sign up today!

Acroyoga Comes to Diosa!
AcroYoga is a physical practice that blends the wisdom of partner yoga, the dynamic power of acrobatics, and the loving kindness of healing arts. Through practice, individuals learn to use touch, movement, body awareness and flow to connect and communicate. Individuals may play the role of flyer, base, or spotter depending on their capabilities in strength and flexibility. Individuals may choose or be assigned to another in class to form a partnership based on their capabilities and compatibilities, or individuals can come and work with pre-determined partners. Either way, acroyoga will teach you how to engage physically with another person in a way that is comfortable and non-threatening as well as communicate both verbally and non-verbally to achieve a pose. Students wishing to participate in acroyoga should have some background in yoga or acrobatics and a level of comfort with Thai massage.
Matthew Moncreaff is a Black Belt Karate teacher, having won several medals in International Karate championships. He is also co-author of awareness survival stories and a certified yoga and Thai Yoga Massage practitioner and teacher. Matthew's enthusiasm for yoga, and, in particular acroyoga, moves him to share this art and practice with others in a manner that is encouraging even for the beginner. His experience in karate, particularly teaching karate to children, make his teaching style and classes accessible to people of all ages and abilities.
SIGN UP ONLINE to reserve your spot! (Click on the Workshops tab at top)
DIOSA RECITAL! Featuring Voices Against Violence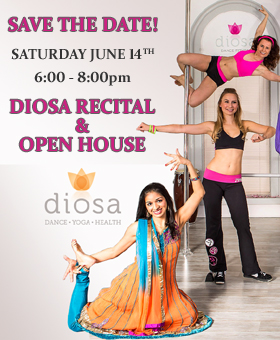 Diosa is two years old and this past year has seen us working hard to learn new skills in our new classes and new routines in our existing classes. We have new instructors and loads of new students this year, all of whom have something to share.
We have a new project that we're exceptionally proud of, our fundraising karma yoga class, which has raised hundreds of dollars for Voices Against Violence. And most importantlyl, we have a growing community of caring, inspirational, positive-minded women and men who we want to appreciate.
Please come and celebrate our achievements and support our community. There will be performances in Acroyoga, Bellydance, Bollywood, Hula Hoop, and Pole Dance by students and instructors. Food and beverage will be served and voluntary donations will be accepted in support of Voices Against Violence.
Please let us know you're coming so we can make sure there is enough space, food and beverage for everyone. Register online to let us know you're coming! And bring your family and friends!



Olga does it again!
This amazing 13 year-old is breaking ground as she de-stigmatizes the world of pole dance. Thanks to pole, she has already won a million rubles, represented her country in the Winter Olympics, and is now traveling the world participating in competitions. Here she is competing in the Arnold World Cup in Rio de Janeiro.
https://www.facebook.com/photo.php?v=706458629420753&set=vb.100001698684044&type=2&theater
Chair Dance - coming soon!
Diosa is bringing this fun, playful class back just in time to get you looking and feeling your best for summer. Take the 1 hour class with your fellow Diosa members as part of your class package, book a private lesson for you and your girlfriends, or make a party of it for your bachelorette, birthday girl, or recent divorcee! You will never have so much fun doing situps or pushups, and, if you want to, bring those sexy new shoes you just love to wear - we'll put them to good use! Check out this video compilation of last year's chair dance classes and workshops for a taste of the fun you can have at Diosa!
Pole Dance Fitness comes to Diosa!
Think Pole Dancing is a still a stripper thing? THINK AGAIN! There is a new world of fitness and Diosa is here to help you discover it! This week, in honor of Columbus' discovery of the new world, Diosa is offering 50% off our new small group personal training classes in Pole Dance Fitness!
Pole dancing classes are popping up across America, and around the world with hopes of becoming the next Olympic sport. (check out the Wall Street Journal Article) In Europe, kids are getting an edge in gymnastics by augmenting their skills on the Pole (check out 10 year-old Olga Trifonova at the IPSF Competition). Pole dancing is a fun, physically demanding form of exercise that will make you stronger than you ever thought possible. No more endless reps! Burn more calories by developing lean muscle mass with Diosa's personalized training method.
Unlike other pole studios, Diosa's small group personal training provides the individualized attention that will help you get the most out of your training according to your personal needs. And you'll have so much fun, you won't notice the workout until you're done! Diosa's certified trainers have worked with top Cirque de Soleil performers and World Champions in pole. Want to check it out before you commit? Try out the Tripolar 3-class pack for $49 (a $96 value). You can buy it directly through the online store or, if you have a Voucher, contact Paulina at 508-309-3543 to activate your account. KNOW the value of personal training and pole dance fitness? Sign up for the Circe Membership and get unlimited personal training in strength and flexibility for the low price of $99 a month!
Image Not Found!
Gallery and Videos